Event Center at Rocky Mountain YMCA
The Barebones Event Center will be at the Rocky Mountain YMCA, conveniently located on both the Barrier Lake and Rocky Mountain YMCA maps. The start & finish of all races on these maps will be a short (or maybe long) walk from the camp.
Click here for directions to the Rocky Mountain YMCA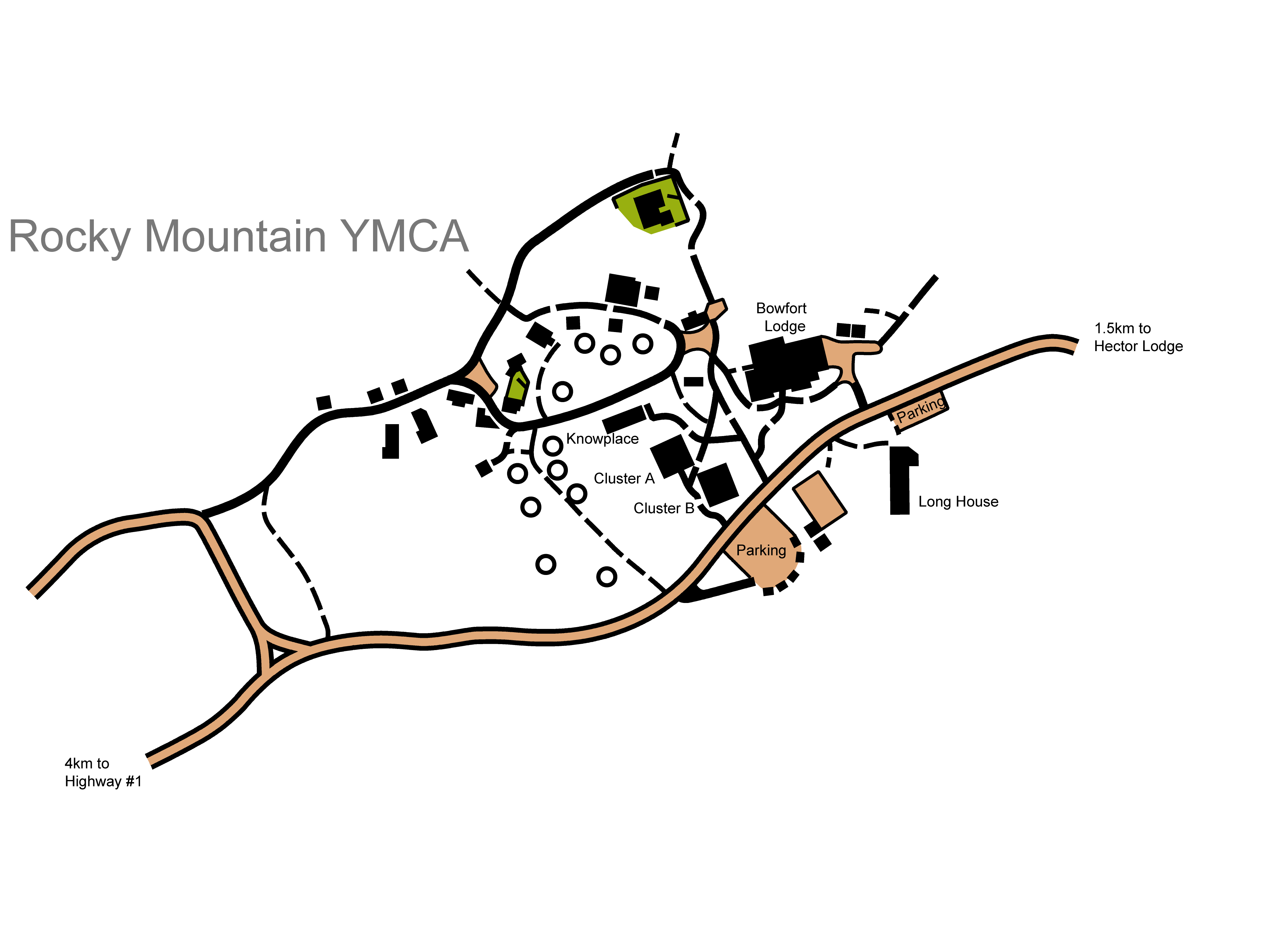 Accommodation & Meals
Event Center Accommodation
Bunk-house accommodation is available at the event center. Indoor bathrooms with showers and flush toilets! A great value. Only available as 2-night package, with all meals included. Bring your own sleeping bag, pillow, towels, and so on. We encourage everyone to stay at the Event Center for the convenience and camaraderie. Meals for those that purchased either the all-inclusive package or the meals package are served in the Bowfort Lodge.
Families will be staying in the Long House - four beds to a room. Priority to those with children.
Officials will be staying in the Knowplace.
Others will be staying in the Cluster A building (four rooms, 12 bunks per room, plus large common area). There should be plenty of room for everyone.
Liquor is allowed.
Laundry is available in Bowfort Lodge ($1.25 per load).
Internet is not available.

Event Center Accommodation Meals
All meals will be served in Bowfort Lodge. See event schedule for times. Food is available only at the start of the specified times, so please be prompt for meals.
Camping
Camping is available about 10 minutes drive away in Bow Valley Provincial park. Evening meals are available at the Event Center so you can easily take part in evening activities.
Other Accommodation
Lots of accommodation options are available about 25 minutes drive away in Canmore. Evening meals are available at the Event Center so you can easily take part in evening activities.
Camp activities
YMCA staff will be on hand at the event center to provide activities for both adults and kids. They will provide fun stuff for the kids during the day if they finish orienteering early (or if they don't want to orienteer) and will keep an eye on the kids in the evening once they're put to bed so adults can enjoy some quiet time. Most programs and activities are free, while some involve an extra cost. Because the camp needs to arrange for adequate staff it is necessary to pre-register for the activities when you register for the orienteering.
Kids' programs
Adventure Seekers : Sunday 9am - noon / Monday 10am - noon
Ages 3-5. YMCA Staff will run appropriate activities for these children while parents and older siblings are participating in orienteering on Sunday & Monday. YMCA staff will also provide proper care for infants and toddlers.
Night Patrol : Saturday / Sunday 9-11pm
Each night parents can put their kids to bed, and then leave them in the care of camp staff. The staff will ensure kids are safe and sleeping well. Night patrol will begin at 9:00 pm, however, it would be appreciated if the kids were settled and in bed before parents leave. Night patrol will end at 11:00 pm so parents should make sure they return to the sleeping areas by that time.
Activities with a Fee - minimum of 20 people required
Sign up on site - see Karin or Richard.
High Ropes Course
Ages 5+ or appropriate size. 2 hours
The High Ropes Course is a series of poles and wires which form an aerial obstacle course to provide a wide range of challenges. All participants must have closed toed shoes for this activity, trained staff and all other equipment will be supplied.
Climbing Tower
All ages but must fit into a body harness.  2 hours
The Rocky Mountain YMCA boasts a 4-sided climbing wall on which participants of all levels can challenge themselves. Closed toed shoes are required but all other equipment will be supplied.
Giant Swing
Ages 5+. 2 hours. The Giant Swing is another climbing activity. Participants are harnessed and attached to cables for a wonderful "swing" experience. Closed toed shoes are required.