September 4 - 7
Rocky Mountain YMCA, Canmore, Alberta

This year's Barebones is a feast of five six races stuffed into the Labor Day weekend. All the race venues are close to the event center at the Rocky Mountain YMCA and within a short drive of the town of Canmore.
NEW! Addition of a Friday evening Sprint race in Calgary. Details (time & location) to be announced.
We invite everyone to Barebones - especially beginners who don't have much (or even any) experience orienteering outside of the city. To ensure everyone will have a great experience, each evening we'll offer optional training sessions to teach and reinforce relevant skills and techniques for the Barebones races.
Barebones 2009 will use some of Canada's best maps and most enjoyable orienteering terrain. Bow Valley Provincial park will be newly mapped in time for Barebones so we can enjoy running in its spacious forests and enjoy the breath-taking views from the open ridges and meadows. Mt Laurie and Barrier Lake offer wonderful forest with intricate contour details. The Canmore Nordic Centre offers a complex network of trails and nice forest, ideal for the Relay. And the Rocky Mountain YMCA map offers a superb range of terrain ideal for night orienteering and the THOMASS-format race.
The Rocky Mountain YMCA is offering an accommodation and meals package at a reasonable price as well as programs to fill up the spare time such as a climbing tower, high ropes, and horse riding. The YMCA will also have programs for the kids during the day when they're not orienteering and in the evening so parents can enjoy some quiet time.
If you come to just one major orienteering event this year, make it Barebones. It will be the perfect way to wrap up the summer holidays and jump into autumn with an active weekend in the mountains. You'll get lots of races, learn new skills, and enjoy finding lots of controls in a friendly, casual environment in one of the most beautiful places in the whole wide world!
Results & Photos
An outstanding weekend of orienteering, based at the Rocky Mountain YMCA. Fabulous racing at all level, from beginner to the elite. Thanks from us organizers to everyone that took part with such enthusiasm and high spirits.
Please click on the "RouteGadget" links below for each event and draw your route.
Photos
Here is a sample of the photos taken by Adrian & Andrea & Charlotte.
Click here to see all Barebones 2009 photos
Survey
Please take a few minutes to give us some feedback on Barebones 2009.
Click Here to take survey
Friday Sept 4
6:00pm - 8:00pm
University of Calgary
Sprint distance
8:00pm
Nick's Pizza
Pizza & beer social
Saturday Sept 5
9:00am - noon
Mt Laurie
Long distance
2:00pm - 5:00pm
Rocky Mountain YMCA
Camp activities
9:00pm - 10:30pm
Rocky Mountain YMCA
Night event: Middle distance, mass start
Sunday Sept 6
10:00am - noon
Bow Valley Provincial Park
Middle distance
2:00pm - 5:00pm
Rocky Mountain YMCA
Camp activities
6:45pm - 8:00pm
Rocky Mountain YMCA
THOMASS-format race
Mondy Sept 7
10:30am - 12:30pm
Canmore Nordic Centre
Relay
2:00pm - 4:00pm
Canmore Nordic Centre
Mountain-bike orienteering
Click here for detailed schedule including camp activities and training schedule.
Sept 2
Full detail for the Sprint event posted (click on "Race Info" on left side of screen)
Sept 1
Confirmed Friday night pizza social at Nick's Steakhouse on Crowchild Trail by the University
Aug 25
Updates to schedule. Be sure to check times of all events.
July 20
Added Friday evening Sprint event
Also, Friday Sprint, Saturday Long, and Sunday Middle have been designated
as "Alberta Champs" races.
March 20
Website updated.
View Larger Map
Click here for directions to the Rocky Mountain YMCA
Results
To appear in due course.
Visit rg.orienteering.ca to view results from previous events.
Feedback
Click here to read some of the emailed feedback from Barebones 2008.
Click here to see photos from Magnus & Andrea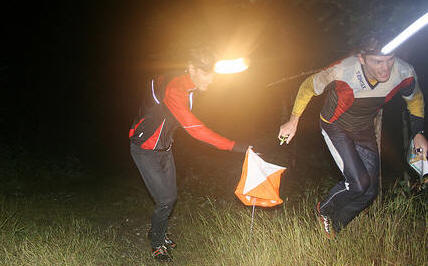 Magnus & Eric in the 2008 Night O (photo Andrea B.)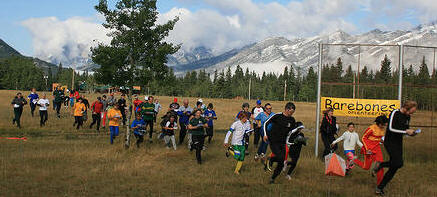 Mass start of 2008 Barebones Relay (photo Magnus Johansson)
FAQ
Q. Can I take YMCA accommodation for only one night?
A. Unfortunately not. According to the Barebones guiding principles we must keep everything as simple as possible: the administration of individual night bookings would be too complex for our meager volunteer staff.
Q. Tell me more about the Mountain Bike Orienteering!
A. The MTBO event is not an "official" Barebones event. Instead it is part of the "Grand Opening" of the fall season of permanent orienteering courses at the Canmore Nordic Center. Bring your favorite bike (and helmet) or rent them from Trail Sports. You will have the option of doing one of the foot-orienteering permanent courses if you prefer. There will be a modest extra cost to take part.
Q. I'm coming from out of town - where could I stay Friday night?
A. On Friday night we recommend staying in Canmore (1st choice) or Calgary. If enough people contact the organizers we could arrange some billeting in Calgary or Canmore.
Q. Why did the prices go up so much from last year?
A. Partly due to increased prices from the YMCA for accommodation and food and partly because the prices were too low last year and Barebones actually ran a deficit. Although the prices have made a jump up Barebones is still great value - especially with the early registration discounts and the support for juniors through the club's Junior Development Program.
Links