Feedback
Barebones is over for another year. On this page we will post messages about how things went and ideas for next year...
From the Organizers
Wow – Barebones 2008 was a great weekend. There were some amazing races and some amazing weather. We organizers were amazed by many things including:
how much food was eaten at the Canmore Nordic Center cafeteria between the Sprint & Pursuit (all of it)
how many people came to run at Mount Laurie in the snow storm (over 90!)
how fast the lead pack ran in the Night-O (6 min/km)
how close the first 5 teams were in the relay (all within 1 minute at the start of the final leg)
how fast the controls were all picked up (less than one hour after the relay finished, all the controls were picked up)
Thanks to everyone that took part in the busy weekend with such enthusiasm and passion. It was contagious and I don't remember enjoying organizing an event so much.
My apologies to everyone for screwing up the results by setting the wrong time in many of the SI units. And big thanks to Richard for painstakingly sifting through all the punch times to make sure that almost everyone's splits times were correct
From the Competitors
---
Adrian, thanks for a great event. That was a lot of fun; I bored my co-workers by recounting my weekend. ... I hope to be able to get more Portlanders up there in the future. Scott Drum (Portland)
---
We will be back for sure (and in better shape so I can experience more of the terrain and do my fair share in control pick-up) Mike and Emma Waddington (Hamilton)
---
To the Barebones Team, Thank you so much for another amazing weekend. The weather could not even hinder the fun we had! Andree Powers (Calgary)
---
I found
this video on the Petzl website
about the 10Mila relay in Sweden. Those of you who attended the latest edition of Barebones (especially the relay lecture, given the night before the relay) may find it of interest. This is a slickly produced 17 minute video about the latest running of the 10Mila. Part of it is in-fact an infomercial for Petzl's latest new headlamp for orienteers, but I think the soundtrack music is kinda fun. Enjoy. -Gar (Vancouver)
---
Thank you to you and all the organizers and volunteers for a truly fun event! Your efforts and the licorice were very much appreciated. Janet Miller
---
Awesome weekend of racing. Not many weekends offer the opportunity for 6 races! It was also awesome for the kids - both Rachel and Trond had a great time. Yesterday, Trond was demanding that I get him a binder like Rachel's, so he could put his relay maps in there :-).
One little issue ... text should always be oriented to north on the maps. The Canmore Nordic Center maps, with no north arrows and "Barebones" written down one side of the map were a bit tough to orient. Both Rachel and Emma made 180 degree errors that may have arised from this. Not a big deal, but worth noting for next time.
Brian May (Salmon Arm)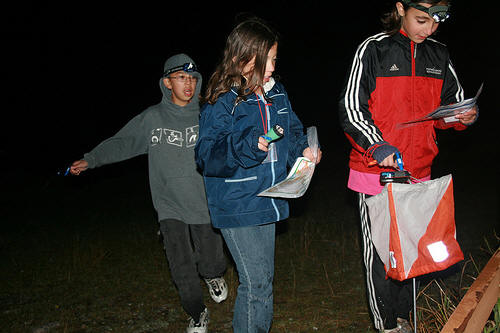 Ashton, Molly,and Darya in the kids' Night course. (Photo: Magnus J.)
---
thanks for the Barebones weekend, which was great experience two years in a row for me. Nev (Edmonton)
---
Great job to all the organizers. How you managed the snow on Sunday and not Monday was brilliant. Magali (Calgary)
---
I really love the Barebones weekend with its focus on head-to-head racing in the Chase, the Night-O and the Relay.
If you are using an unforked course with mass start for the night-O (which I think is a good idea for most North American orienteers who don't have big lights and are not used to solo navigation at night), then I think you can still make the course much more challenging (for the elite only). When you are in a big pack, there are just so many lights sweeping around that there is always someone who spots the reflector and it's basically a sprint the whole way. This is of course fun as it is, but maybe with some more proper forest orienteering and one or two longer legs, there is at least some chance to pull away or take a chance on a different route choice etc.
Magnus (Vancouver)