Results

Thanks everyone for such a fun and memorable weekend of great socializing & racing. Congratulations to all the new Alberta Champs.

(Sept 20th - WinSplits corrected for Middle Distance event)


Note - the Sport class results are not yet correct for the Long distance race.

Volunteers

Event Director
Adrian Zissos
Registration
Jean MacNaughton
Finances
Mardy Roberts
Safety Chief
Christin Lundgren
Planner: Urban O
JP Buysschaert
Planner: Middle
Karen Martino
Planner: Sprint
Adrian Zissos
Planner: Long
Jane Rowlands
Controller: Middle, Long
Kitty Jones
Controller: Sprint
JP Buysschaert
Timing
Richard Obreiter
Rafter Six Liaison &
Banff Centre Liaison
Pascale Levesque
Canmore Nordic Centre Liaison
Charlotte MacNaughton
Equipment
Clarence Kort &
Gabrielle Savard
Refreshments
Deanne Stephen &
Rosie Hickey
Start Crew
Marion Owen
Marsha Fehr
Randy Miller
Pascale Levesque
Miles Tindal
Doug Stephen
Dougal Owen
Malcolm Newson

Three great races
Two new maps
One last minute hiccup


Follow @BarebonesO
We have an exciting schedule for Barebones 2011. Short and sweet - three races packed into two full-on days of orienteering and socializing. Highlights include:
running right from Rafter Six Ranch - so all courses get into some rarely-used and totally fabulous areas of the map. Followed with cowboy bbq lunch at the Ranch.
sprint at the Canmore Nordic Centre
dinner in Canmore.
a Canada Cup race on the brand new version of the Bow Valley map
the usual fabulous Barebones mix of young and old, elite and recreational, fast and maybe not quite so quick ;-)
and of course the you-can-never-get-tired-of-it stupendous scenery of the Rocky Mountains all weekend.
So, what's the last minute hiccup? Frustratingly the Banff Centre staff have at the last minute told us that they do not like the idea of holding Barebones Sprint on their venue. The Banff Centre was the planned location for the Saturday afternoon sprint and Saturday evening meal.
The Canmore Nordic Centre has graciously agreed to host the sprint on Saturday afternoon. We continue to search for a dinner venue in Canmores. Our deepest apologies to everyone for this unexpected change. If you have any concerns please contact us directly. An email has been sent to all registrants with more details.
Thanks for your patience!
Thanks to everyone for their patience as we are quite late posting event information. Our excuse is mainly the last minute changes in Sprint location, and some last minute concerns about the length (and subsequent safety) of the courses for some age classes in the Long distance race. We appreciate everyone's patience and apologize for the lateness.
News
Sept 18th
Results posted

Sept 17th
Middle & Sprint results available on the myO page
Sept 16th
Final event information has been emailed to all competitors, and is available: Start times can been seen:

Waiver: Please don't forget to download the waiver, fill it out, and bring it to Jean MacNaughton before your first race. You will get a little reward.

We are looking forward to seeing you and hope everyone has a fun weekend of great orienteering in beautiful terrain with lots of great socializing.

Sept 15th
It has been decided that everyone will need to sign a special waiver for this event, as is becoming more the norm. Please download the waiver, fill it out, and bring it to Jean MacNaughton before your first race. Families can use the same form, but the parent must sign for anyone under 18 years old.
Sept 14th
Event details have been added to the myO 'Barebones 2011' page (for more information on myO - please see below)
Sept 13th
The List of Entrants is updated again. Start times have been assigned. Contact Jean at barebones.ca if there are any problems.
Sept 9th
Information Bulletin posted. Please read for latest details. In particular, please check your registration information on the List of Entrants and contact Jean at barebones.ca if there are any problems.
Sept 7th
Canmore Nordic Centre confirmed as venue for Sprint on Saturday afternoon.
Sept 2nd
Registration data can be viewed on the myO 'Barebones 2011' page. Click on the "Starts" button. (for more information on myO - please see below)
Sept 2nd
Registration reaches 139. Our limit is 150, so only a few last-minute spots available. Late fees in effect. On-the-day entry will ONLY be available for the Sprint race.
Sept 1st
Banff Centre Sprint & Dinner cancelled. We are working on replacement Sprint & Dinner (keeping approximately the same schedule, but changing venues). Stay tuned for more details.
Schedule
Friday September 16
6:00 pm
Canmore
UrbanO fun event
Saturday September 17
10:00 am
Rafter Six
Middle
noon
4:00 pm
7:00 pm
8:00 pm
Rafter Six
Canmore Nordic Centre
Canmore Nordic Centre
Canmore Nordic Centre
BBQ lunch
Sprint
Dinner
Stories from WOC 2011
Sunday September 18
9:00 am
Bow Valley Provincial Park
Long Distance
(Canada Cup race)
Entry List
Please check your SI number and class & course for each event on the Barebones 2011 entry list
Registration
Registration limit
Our agreements with Alberta Parks limits us to 150 participants in each race. We are already at 140 (Sept 1st), so register soon to avoid disappointment if the race sells out. The Sprint race at Canmore Nordic Centre, should it go ahead, will be the only race with entry on the day.
Categories & Courses
Several categories are available, some age based and some skills based, to suit every level of fitness and orienteering experience. Each category will compete on a course of the appropriate technical and physical difficult as described below:
Age categories
Course Description
M/W 9 & under
M/W10-12
C1: Technically the easiest and shortest course. All controls on paths.
M/W13-14
C2: Longer and somewhat more technically difficult - controls on large features close to paths.
M/W15-16
C3: Intermediate difficulty, short course. Controls on large features in the forest.
W65-74,
M/W75-79,
M/W80 & over
C4: Technically difficult, short course.
W45-54, W55-64
M65-74
C5: Technically difficult, medium-length course.
W17-20, W21-34,
W35-44
M45-54, M55-64
C6: Technically difficult, medium-length course.
M17-20, M21-34,
M35-44
C7: Technically difficult, physically hard.
Open categories
Course Description
Recreational

C2: Technically easy, short course - controls on large features close to paths. Suitable for beginner adults looking for a mild introduction to orienteering.
Sport (Solo)
Sport (Team)
C8: Intermediate difficulty, long course. Controls on large features in the forest. Suitable for fit adults and teams that are new to orienteering. "Scatter" format - which allows you a certain amount of time to visit as many controls as you can. Each control visited earns points, but being late to the finish incurs penalties. Strategy and consistent navigation are rewarded!
Recreational & Sport categories
The courses for the Middle Distance race (Rafter Six) and the Long Distance race (Bow Valley Provincial Park) will have a "Score-O" format. This format is ideal for novice and intermediate orienteers - you choose which check points to visit and in which order. Your challenge is to visit the most number of controls possible in the time limit (45 minutes for Middle Distance, 90 minutes for Long distance).
Alberta Champs
All three of the Barebones races have been designated as the Alberta Championship races. Alberta residents running in their age category who are AOA full, honourary or group members in good standing will be eligible for Alberta Champion medals.
Saturday Lunch & Dinner
Part of our land access agreements with Rafter Six & Banff Centre is that we will include food with the race fees. So not only do we get to run from incredible venues, but when you get back there'll be loads of fantastic food to replenish & fuel you up for more. Lunch BBQ at Rafter Six will be roasted beef on a bun with salad, fruits, cakes, and iced tea and coffee - served, if the weather's good, at the gazebo overlooking the finish chute. Dinner was originally planned to be at the Banff Centre in Vistas Restaurant but this has been cancelled. We are working on finding a new venue in Canmore.
Entry Fees & other expenses
The all inclusive price includes all three races, the UrbanO, both meals, and even your SI card rental. It offers a significant savings and convenience compared to the a la carte pricing. The a la carte pricing allows you to chose individual items if, for some crazy reason, you won't be taking part in the full weekend of activities.
Barebones 2011 Pricing
Adults
Juniors
Kids
Age (as of Dec 31 2011)
10 - 20
3 - 9
All inclusive, steal of a deal
Three races, UrbanO event, lunch bbq at Rafter Six,
dinner in Canmore, SI rental.
$109
$79
$59
A la Carte pricing
Friday evening:
* UrbanO in Canmore (price per map)
$5
$5
free
Saturday morning:
* Middle distance race + bbq at Rafter Six
$50
$35
$30
Saturday afternoon:
* Sprint distance race + buffet at Canmore
$60
$50
$45
Sunday morning:
* Long distance race at Bow Valley prov. park
$25
$10
$10
Extra bbq ticket at Rafter Six
$25
$25
$25
Extra dinner ticket in Canmore
$45
$45
$45
SI rental per event
$2
$2
$2
August 1st: Early Registration Incentive
Register before August 1st and receive about 10% discount on the adult all-inclusive price.
September 1st: Procrastination Disincentive
Register after September 1st and pay extra! $25 extra per person. And as a special late-registration bonus you also risk not being able to run in your chosen category if we don't have enough maps printed. So why bother registering today when you can wait and pay more later on?
September 8th: Drop dead date for online registration
Online registration will close September 8th. After this on the day entry will be available in the Open Categories.
On the Day entry
There will be on-the-day entries available in the Open Categories.
Junior program: discounts for kids & coaches
Many clubs provide subsidies to juniors attending provincial and regional championships. Check with your club's Junior Development coordinator.
Cancellation & Refunds
In the event you should cancel your entry, weíll refund 90% if the cancellation is received in writing before August 1st and 75% is received before September 1st. No refunds will be given after this date - sorry (itíll be spent by then).
Non-O-Club members
For insurance purposes all participants must be a member of a recognized provincial orienteering association (or national federation) to take part in Barebones. You can purchase an Alberta Orienteering membership online at www.orienteeringAlberta.ca. There are two membership levels: Club & Full. Club members may only compete in Open categories. Full members may compete in any category.
Teams
Teams of two or three are welcome and can compete in the Sport or Recreational categories. Teams pay one entry fee per member. Teams require just one SportIdent card (see "electronic punching" below). All team members must belong to a recognized provincial association (see "Non-O-Club members" section above).
Electronic Punching
All events use electronic timing. There is a small charge of $2/event to rent SportIdent cards if you donít have your own.
NOTE: Calgary JDP members can use the SI cards they use on Wednesday evenings - NO SI card rental required.
Start times
Open category participants can start the race at their convenience during the first hour of each event. Age categories will have assigned start times for each event.
Shadowing
For parents who wish to shadow their children, please note that shadowing is free. Pay race entry fees only if you will be racing yourself.
Complainerís Fee
A complainerís fee of $25 is payable in advance by anyone who thinks they might be whining about the courses, the map, the terrain, the weather, or anything else that will make the organizers wish they'd never bothered organizing this event. Constructive commentary, as usual, is free and welcome.
Accommodation
Group camping
Friday & Saturday night in Bow Valley Provincial Park at Elk Flats. This will be the start/finish location for the Sunday Long Distance race. Cost will be max $20/site and will be collected on-site.
Banff Centre Hotel
Click here to bring on the Banff Centre online reservation page.
When the Sprint & Dinner were planned for the Banff Centre, then staying there made great sense. It makes less sense following the cancellation of the race and dinner. We are looking for a Canmore hotel to recommend, but in the meantime you can probably find something quite good online.
myO - for more information
As full information about Barebones 2011 become available you will need to visit the myO 'Barebones 2011' page
What the heck is myO ?
Adrian Z is developing new software that presents information about orienteering events via your mobile device's browser - or of course on you laptop or desktop browser too. The idea is that you no longer need to print event information since it will always be available on your mobile device, and that the information is presented in a more useful and natural way. Barebones 2011 is being used to test the software. For those without mobile devices, or without internet-via-cell-system - it will be possible to print the information from myO.
Some things to try in myO:
check the News page for latest updates
check the Map page to see location of all events
sort the start lists by club / category / name
define your Favorites - and view their start times all together
after the race see if you reached gold, silver, or bronze standard on the results page
Alberta Champs
Barebones 2011 is not just about the great forest, fabulous views, unsurpassed venues, and great hanging out time. There's more!! For those who will be running in your age-category there will be the chance to have your name etched into immortality by winning the race. Doing so will make you the Alberta Champion for 2011 - an accomplishment that will live forever. Good luck! There are no qualifications - all Alberta resident who register will be eligible. What's more - you get three chances! One each in the Sprint, Middle, and Long races.
FAQ
Q. Has anyone asked any questions yet?
A. Finally, yes...
Q. Do we need to pre-register for group camp?
A. No. We will collect money at the camp site.
Q. Can we stay at the Banff Centre on Sunday night and still qualify for reduced rate?
A. Yes, the special rate is available for up to three days before and three days after our event.
Q. What category should I run in?
A. If you have at least a little bit experience and you want a chance to win an Alberta Champs medal, then register in your age group. If you are new to orienteering and just want a great run in the forest then sign up for the Sport categories - either solo or team.
Q. Where can I buy orienteering equipment?
A. The O-Store is coming to Barebones! Visit O-Store.ca to see their inventory. Jeff T. is bringing a lot of stuff to Barebones - so you can buy online or buy in person from Jeff. This is a great opportunity to get a good compass, or a control description holder, or a nice new shirt, or orienteering pants. Heck, I think Jeff might even have some Inov-8 shoes for sale.
Middle distance: Rafter Six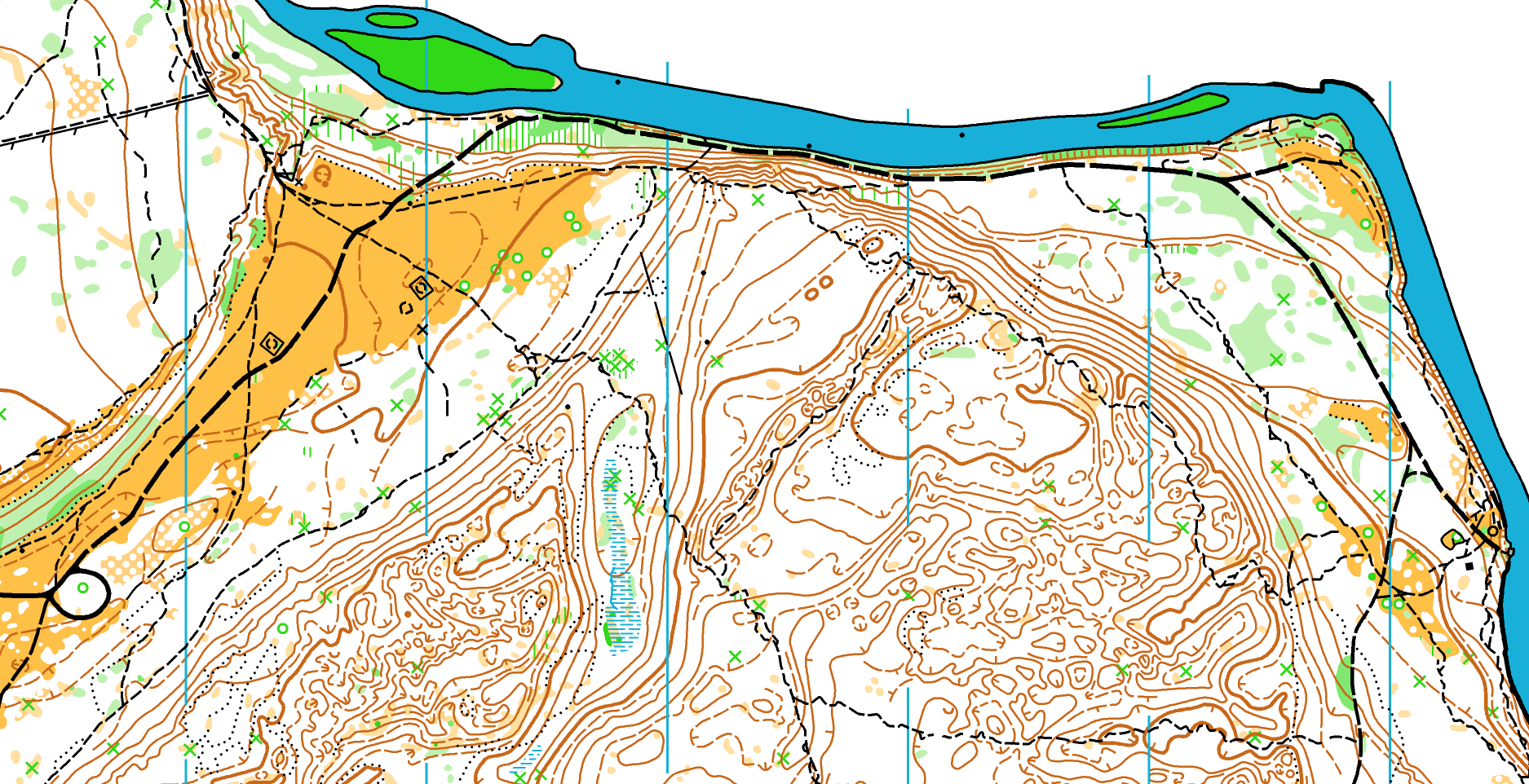 Sprint distance: Canmore Nordic Centre
Long distance: Bow Valley Provincial Park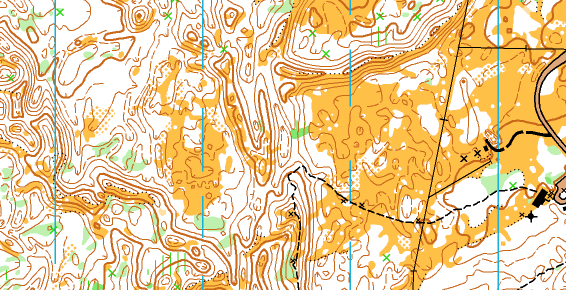 This is a "Sports Day In Canada" event