August 30 - Sept 1
Rocky Mountain YMCA, Canmore, Alberta
Three days stuffed with orienteering & adventure
This year's Barebones is a feast of five races stuffed into the Labor Day weekend. All the race venues are close to the event center at the Rocky Mountain YMCA and within a short drive of the town of Canmore.
We invite everyone to Barebones - especially beginners who don't have much (or even any) experience orienteering. To ensure everyone will have a great experience we are offering a free Introduction to Orienteering Clinic in Canmore right before the first races on Saturday. Also each evening at the Rocky Mountain YMCA optional training sessions will be offered by our club's most experienced coaches and athletes to teach and reinforce relevant skills and techniques for the Barebones races.
Barebones 2008 will use some of Canada's best maps and most enjoyable orienteering terrain. Mt Laurie and the new Barrier Lake offer wonderful forest with intricate contour details. The Canmore Nordic Centre offers a complex network of trails and nice forest, ideal for Sprint and Middle distance running. And the Rocky Mountain YMCA map offers a superb range of terrain ideal for night orienteering and relays.
The Rocky Mountain YMCA is offering an accommodation and meals package at a very reasonable price as well as programs to fill up the spare time such as a climbing tower, high ropes, and horse riding. The YMCA will also have programs for the kids during the day when they're not orienteering and in the evening so parents can enjoy some quiet time.
If you come to just one major orienteering event this year, make it Barebones. It will be the perfect way to wrap up the summer holidays and jump into autumn with an active weekend in the mountains. You'll get lots of races, learn new skills, and enjoy finding lots of controls in a friendly, casual environment in one of the most beautiful places in the whole wide world!
Results
An outstanding weekend of orienteering, based at the Rocky Mountain YMCA. Fabulous racing at all level, from beginner to the elite. Thanks from us organizers to everyone that took part with such enthusiasm and high spirits.
Please click on the "RouteGadget" links below for each event and draw your route.
* - RouteGadget hint: to watch the excitement of the Chase, when viewing the animation turn off the "Mass Start" option.
** - Results from Night event have many messed up splits. See Note 2 below.
Note 1: As usual, we did not manage to get the software working for the Relay, so we can't provide any split times - sorry
Note 2: On the other hand, despite a big error created by Adrian setting most of the SI units to the wrong time (German time), Richard worked really hard to manually update punch times so that almost everyone has the proper splits.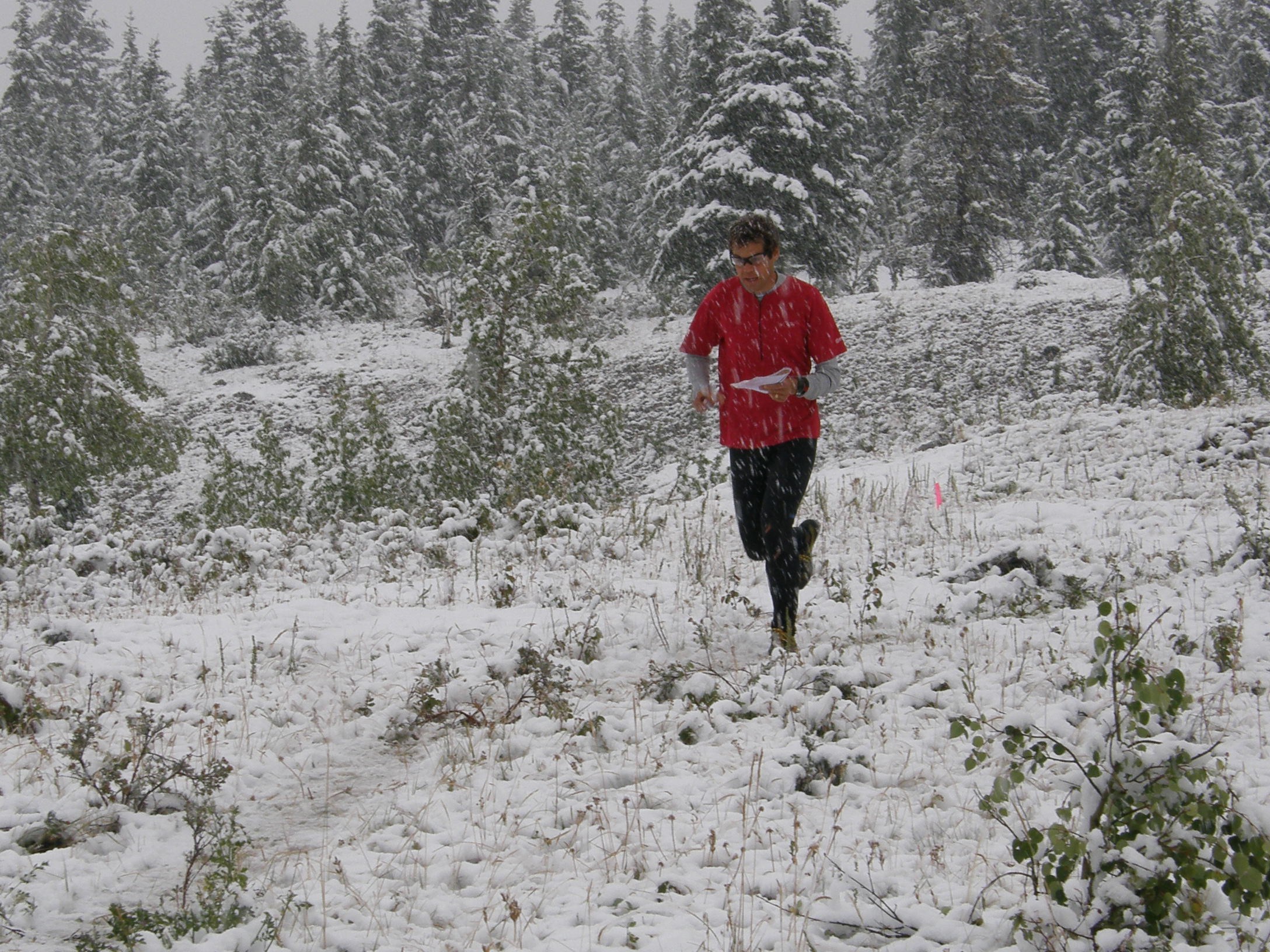 Alaric running at Mt Laurie (Photo: Adrian Z.)
Feedback
Please fill out our Barebones 2008 survey and give us your ideas for next year's event.
Click here to read some of the emailed feedback from Barebones 2008.
Click here to see photos from Magnus & Andrea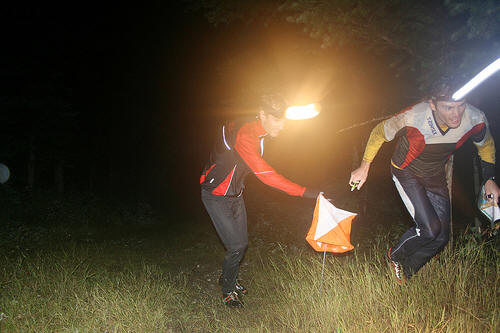 Magnus & Eric in the 2008 Night O (photo Andrea B.)
Mass start of 2008 Barebones Relay (photo Magnus Johansson)
Saturday Aug 30
Canmore Pursuit
8:30am - 9:30am
Canmore Nordic Center
Introduction Clinic
10:00am - 11:30am
Canmore Nordic Center
Prologue: Sprint distance
12:30pm - 2:30pm
Canmore Nordic Center
Pursuit: Middle distance
Sunday Aug 31
Bow Valley racing
10:00am - noon
Mt Laurie (Yamnuska)
Long distance
2:00pm - 3:30pm
Rocky Mountain YMCA
3-legged sprint
9:00pm - 11:00pm
Rocky Mountain YMCA
Night event: Middle distance
Monday Sept 1
Relay day
9:00am - noon
Rocky Mountain YMCA
Team Relay
Click here for detailed schedule including camp activities and training schedule.
| | |
| --- | --- |
| Aug 11 | Entry list updated, registration deadline extended to Aug 16th |
| April 23 | Schedule updated. Registration opened. |
FAQ
Q. Can I take YMCA accommodation for only one night?
A. Unfortunately not. According to the Barebones guiding principles we must keep everything as simple as possible: the administration of individual night bookings would be too complex for our meager volunteer staff.
Q. If we're travelling from far away, where should we stay Friday night?
A. On Friday night we recommend staying in Canmore (1st choice) or Calgary. If enough people contact the organizers we could arrange some advanced training for Friday evening, for those arriving early. Also some billeting may be possible.
Links