August 31 - Sept 3
Rocky Mountain YMCA, Canmore, Alberta
Four days stuffed with orienteering & adventure
This year Barebones will have six events stuffed into the Labor Day weekend all happening close to the event center at the Rocky Mountain YMCA. The YMCA is offering full accommodation and meals at a very reasonable price as well as programs to fill up the spare time such as a climbing tower, high ropes, and trail rides. The YMCA will also have programs for the kids during the day when they're not orienteering and in the evening so adults can enjoy some quiet time.
We want everyone to come to Barebones this year - especially beginners and intermediates who don't have much experience orienteering outside of city parks. To ensure orienteers who have never been in the forest will have a great experience Barebones 2007 includes a Junior and an Adult training component. Each day instruction will be offered by our club's most experienced coaches and athletes to teach and reinforce relevant skills and techniques and to ensure everyone enjoys the challenges of forest orienteering.
Barebones 2007 will use some of Canada's best maps. Mt Laurie and the new Barrier Lake offer wonderful forest with intricate contour details. Canmore Nordic Centre offers a complex network of trails and nice forest, ideal for Sprint and Middle distance running. And the Rocky Mountain YMCA map will be the freshest map in Canada - brand new in August 2007!
If you come to just one forest event this year - make it Barebones. It will be the perfect way to cap off your summer vacation with a weekend in the mountains filled with rewarding challenges and activities.
Feedback
Click here to see read some of the feedback about Barebones 2007.
Results
It was a truly wonderful weekend of orienteering, based at the Rocky Mountain YMCA. Thanks from us organizers to everyone that took part with such enthusiasm and high spirits.
Please click on the "RouteGadget" links below for each event and draw your route.
Note 1: Mt Lauire Course 4 & 5 had to be curtailed at the second-to-last control, since we picked up the last control before everyone was finished their race.
Note 2: Barrier Lake control 118 was placed about 30m away from the correct spot, so some times to that control are not reflective of the orienteer's ability ;-)
Note 3: We did not manage to get the software working for the Relay, so we can't provide any split times - sorry
Photos
From Magnus: click here for complete set
Chase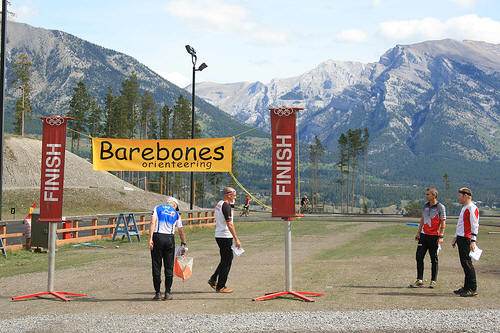 Night O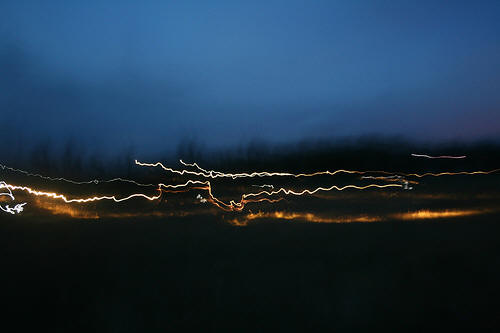 Relay mass start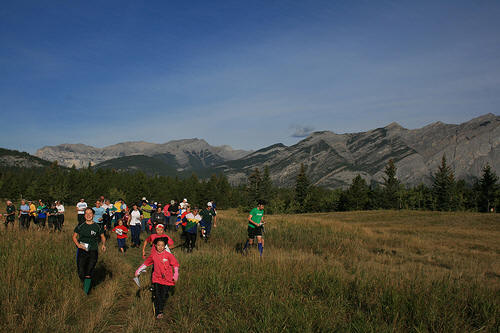 Aug 29
Entry list updated (for the last time).
Technical information update with course lengths, map scales, more details with each event. One new event - the Super Sprint.
Aug 29
Note from the organizers: There has been a massive increase in registration recently - almost half of the entire registration came last week. While we were expecting a big jump in the last week, this jump is much bigger than we had expected and while we are delighted, it has caught us slightly off guard. Please be patient as we scramble to accommodate everyone. Some of the things you might notice don't work very well: the remote start at Mt Laurie might be more problematic than we'd hoped, check-in at the YMCA might take longer than ideal, we are running out of rental SI sticks, we have already run out of map bags and are searching for more, and other things like this. Also, because we are scrambling to deal with these kinds of things we are somewhat concerned that we've not been able to put our usual attention to detail into the technical side. We've notice a couple of small mistakes already: a) there is no scalebar on any of the maps, b) the night O map doesn't even say what scale it is (1:5,000), c) the Barrier Lake Expert & Elite control descriptions say there is water at control 106 - but there isn't any water at any control this Barebones.

What you can do to help: We are delighted that many novice orienteers have decided to come to Barebones this year. But it does bring with it some challenges for everyone. If you are an experienced Barebones'er then please make the newcomers feel comfortable and welcome and help them understand the rituals that must be performed at an orienteering event (e.g. clear the SI stick, go to the start, go to the download after the finish, say something nice to the organizers, compare your splits to everyone else, make excuses, offer to pick up controls, and so on).

Aug 28
Entry list updated. Modification for Relay points - more points for people over 70! 150 registered.
Aug 26
Changed start time of 3-legged race by 30 minutes
Aug 25
Entry list updated, sorted by club and including age to help you make relay teams. Over 130 registered! Late fees in effect - but registration still open
Aug 23
Updated technical page with more information about the Club Relay. Please review & send comments to Adrian.
Aug 23
Start time for Mt Laurie event is moved back one hour. Now it is 5-5:30pm for starts, course closing at 8pm
Aug 20
Entry list updated. Updated technical page with information about Monday's relay. Also updated Event Center page with information and a map.
Aug 11
Updated technical page with DRAFT information. Please report any errors to Adrian Z.
Aug 10
Added tribute to Glenn Watson
Aug 10
Entry list updated
Aug 10
The Saturday 'arena horse riding' has been rescheduled & combined with the Sunday 'trail riding'.
Friday Aug 31st
5:00pm - 8:00pm
Mt Laurie
Long distance
Saturday Sept 1st
9:00am - noon
Barrier Lake
Long distance
3:00pm - 4:00pm
Rocky Mountain YMCA
3-legged race (mass start)
9:00pm - 11:00pm
Rocky Mountain YMCA
Middle distance (night event)
Sunday Sept 2nd
10:00am - 11:30am
Canmore Nordic Center
Sprint distance
12:30pm - 2:30pm
Canmore Nordic Center
Middle distance
7:00pm - 9:00pm
Rocky Mountain YMCA
Awards & Party
Monday Sept 3rd
9:00am - noon
Rocky Mountain YMCA
Club Relay
Click here for detailed schedule including camp activities and training schedule.
Click here for detailed directions to the Rocky Mountain YMCA

FAQ
Q. Can I take YMCA accommodation for only one or two nights?
A. Unfortunately not. According to the Barebones guiding principles we must keep everything as simple as possible: the administration of individual night bookings would be too complex for our meager volunteer staff.
Links
Links